Gage Assembly
Thread Gages – Our Specialty

Gage Assembly manufactures standard, special-thread plug and ring gages for virtually every type of thread including American Inch, Metric, Acme, Buttress, Straight and Tapered pipe threads. Size capabilities run from 000-120 threads per inch to 15 1/2 inch diameter and one thread per inch.

All gages are manufactured to ANSI standards and are traceable to the National Institute of Standards. Gage Assembly offers standard gages in stock and fast delivery on special-order thread gages, including adjustable rings and set plugs.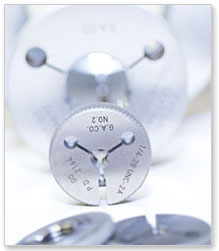 Our company manfucatures its thread gages with a hard-chrome finish at no extra cost for longer wear and more dollar for dollar value. Hard chrome gages can last up to eight times longer than plain steel gages. Gage Assembly's hard-chrome finish is a true hard-chrome deposit, not a flash. We guarantee that the finish will not chip, flake or peel and the pitch diameters are within the upper half of gage maker's tolerance for extra wear.